Online Earning
What is Affiliate Marketing? How i can Earn from Affiliate Marketing?
What is Affiliate Marketing?
Affiliate marketing is a Process where Publishers Earn a Commission by Promoting a Product or Service Made by another Retailer or Advertiser using an Affiliate Link. The affiliate partner is rewarded a payout for providing a specific result to the retailer or advertiser.
Affiliate marketing is where you promote another company's product or service in return for a commission on the sales you generate. Commissions are typically a percentage of the sale price, but can occasionally be a fixed amount.
in Simple Words Affiliate marketing is the process by which an affiliate earns a commission for marketing another person's or company's products. The affiliate simply searches for a product they enjoy, then promotes that product and earns a piece of the profit from each sale they make. The sales are tracked via affiliate links from one website to another.
How to do Get Paid from Affiliate Marketing?
A quick and inexpensive method of making money without the hassle of actually selling a product, affiliate marketing has an undeniable draw for those looking to increase their income online. But how does an affiliate get paid after linking the seller to the consumer?
The answer can get complicated.
The consumer doesn't always need to buy the product for the affiliate to get a kickback. Depending on the program, the affiliate's contribution to the seller's sales will be measured differently.
The affiliate may get paid in various ways:
1- Pay per Sale (PPS).
This is the standard affiliate marketing structure. In this Program, the Merchant pays the affiliate a Percentage of the sale price of the Product after the consumer Purchases the Product as a result of affiliate Marketing strategies. In other words, the affiliate must actually get the investor to invest in the affiliate product before they are compensated.
2- Pay per Lead (PPL).
A more complex system, pay per lead affiliate Marketing Programs Compensates the affiliate based on the conversion of leads. The affiliate must persuade the consumer to visit the merchant's website and complete the desired action — whether it's filling out a contact form, signing up for a trial of a product, subscribing to a newsletter or downloading software or files.
3- Pay per Click (PPC).
Affiliate marketing is largely about generating traffic to websites and trying to get customers to click and take action. So, the myth that affiliate marketing is all about SEO (search engine optimization) is no surprise.
However, while Organic Traffic is free, SEO simply can't sustain affiliate marketers in such a saturated market — which is why some affiliate marketers utilize PPC.
PPC (pay per click) Programs Focus on incentivizing the affiliate to Redirect consumers from their Marketing Platform to the merchant's website. This means the affiliate must engage the consumer to the extent that they will move from the affiliate's site to the merchant's site. The affiliate is paid based on the increase in web traffic.
There are two common concepts in PPC:
CPA (cost-per-acquisition): With this model, the affiliate gets paid each time the seller or retailer acquires a lead, which is when an affiliate link takes the customer to the merchant's online store and they take an action, such as subscribing to an email list or filling out a "Contact Us" form.
EPC (earnings-per-click): This is the measure for the average earnings per 100 clicks for all affiliates in a retailer's affiliate program.
4- Pay per install (PPI).
In this payout system, the affiliate gets paid each time they direct a user to the merchant's website and installs a product, generally a mobile app or software.
So, if a retailer budgets for a $0.10 bid for each install generated via an affiliate program, and the campaign results in 1,000 installs, then the retailer will pay ($0.10 x 1,000) = $100.
In this payout system, the affiliate gets paid each time they direct a user to the merchant's website and Download The File, generally a Videos or images and Files
For Example if the merchant's Website Offer budgets for a $0.30 bid for each Download generated via an affiliate program, and the campaign results in 1,000 installs, then the retailer will pay ($0.30 x 1,000) = $300.
Why do Affiliate Marketing?
There are Some reasons why you should consider doing affiliate marketing:
1. Low Cost and Low Risk
Starting a business means incurring upfront costs for products, employees, equipment, rent, and so on. This makes it risky and expensive. With affiliate marketing, all you need is a website. Even if it doesn't work out, all you've wasted is time and a little bit of money.
2. Easy to Scale
A typical salesperson only sells products from one company. As an affiliate marketer, you can promote products from many different companies and earn commissions from all of them.
3. Passive income.
While any "regular" job requires you to be at work to make money, affiliate marketing offers you the ability to make money while you sleep. By investing an initial amount of time into a campaign, you will see continuous returns on that time as consumers purchase the product over the following days and weeks. You receive money for your work long after you've finished it. Even when you're not in front of your computer, your marketing skills will be earning you a steady flow of income.
4. No Customer Support.
Individual sellers and companies offering products or services have to deal with their consumers and ensure they are satisfied with what they have purchased.
Thanks to the affiliate marketing structure, you'll never have to be concerned with customer support or customer satisfaction. The entire job of the affiliate marketer is to link the seller with the consumer. The seller deals with any consumer complaints after you receive your commission from the sale.
5. Work From Home.
If you're someone who hates going to the office, affiliate marketing is the perfect solution. You'll be able to launch campaigns and receive revenue from the products that sellers create while working from the comfort of your own home. This is a job you can do without ever getting out of your pajamas.
6. Performance Based Rewards.
With other jobs, you could work an 80-hour week and still earn the same salary. The good thing about affiliate marketing is that it is purely based on your performance. You'll get from it what you put into it. Honing your reviewing skills and writing engaging campaigns will translate to direct improvements in your revenue. You'll finally get paid for the outstanding work you do!
How to get started with affiliate marketing?
Follow these seven simple steps.
Decide on a Platform
you can do affiliate marketing on any platform. Even Instagram works.
However, it's much easier to build an audience and increase your affiliate sales via one of two channels: a blog or YouTube channel.
Starting a blog today is relatively easy and cheap. Once your site is up, optimize it for search engines so that you have a better chance of ranking. From there, you're free to add affiliate links in your content.
The other platform is YouTube. Creating and uploading content to YouTube is free, which makes it ideal for many people. Optimize your videos for SEO, and include affiliate links in your description.
Note that you'll need to disclose the fact that you're including affiliate links. The Federal Trade Commissions (FTC) requires you to be transparent when receiving income from an endorsement.
If you're using a blog, create a standalone page, or include it in the footer of your website like this:

If you're doing it on YouTube, include it in your description: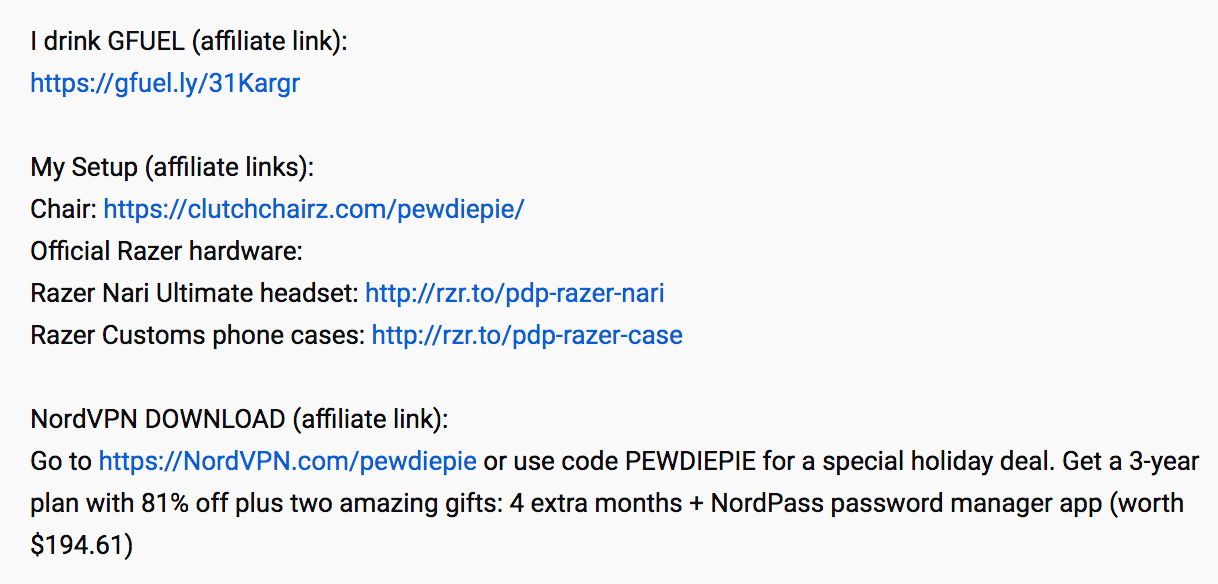 Now, you'll likely get more clicks from a blog than a YouTube video. For that reason, most of the examples going forward will be for a blog.
Choose Your Niche
if you're starting a blog today, you're facing a ton of competition. Statista estimates that the number of bloggers in the U.S will reach 31.7 million by 2020.
To stand the best chance of success, niche down.
Choose a topic that focuses on a specific category. For example, the topic of "food" is an enormous category. Rather than tackling that, try something more specific, like grilling food.
Keeping your topics tight can help you build a more focused audience and potentially help you rank higher in search engines.
Many affiliate sites die due to a lack of consistency. So at the very least, if you're passionate about a topic, you'll find it much easier to press on when the going gets tough.
Find Affiliate Programs to join
There are three types of affiliate programs to choose from.
1. High-Paying, Low Volume Affiliate Programs
These are affiliate programs for niche products with high payouts.
For example, ConvertKit's affiliate program pays almost $700 per month if you send just 80 customers their way. However, as they sell CRM software for small business owners, there's a limited pool of buyers.
2. Low Paying, High Volume Affiliate Programs
These are affiliate programs for products with low payouts but mass appeal.
For example, take PS4 games. Lots of people play PS4, but the average cost of a game is only around $50, and affiliate commissions are usually in the single digits. This means you'll earn $2-3 per sale if you're lucky.
3. High Paying, High Volume Affiliate Programs
These are affiliate programs for products with mass appeal, which also pay high commissions.
One example is credit cards.
Everyone needs a credit card, and most people stay with the company for years (sometimes even decades!)
How to Decide Which Affiliate Programs to join
This depends on your niche and level of expertise.
If you're targeting consumers, you'll likely go with the second model of low commissions and higher sales volume.
If you're going after a business audience, you'll likely go for the first model: high-paying and low volume. The most popular programs here are for software and web hosting-related products.
Create Great Content
If you want your affiliate site to succeed, you need to create high-quality content where your affiliate links fit naturally.
Here's an example. Tim Ferriss interviewed 100+ famous people and asked them this question:
What purchase of $100 or less has most positively impacted your life in the last six months (or in recent memory)?
He published the answers in a blog post and included affiliate links to the products mentioned: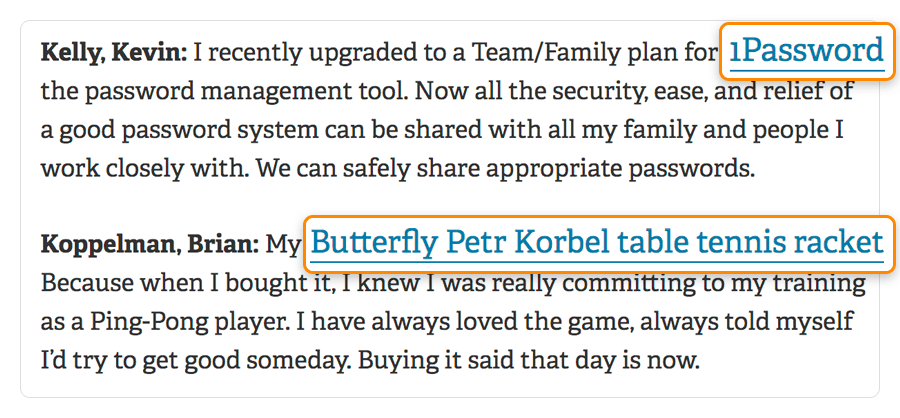 Judging by the comments, his fans loved it.
This is what you have to emulate when creating content for your affiliate site.
Don't just blindly curate products from Amazon's best sellers. Go the extra mile to make sure your content solves the visitor's problem.
Drive Traffic to Your Affiliate Site
You've created great content. The next step is to get more people to read it, so they will click on your affiliate links.
Here are three traffic strategies to consider:
1. Paid traffic
This is where you pay for traffic to your site. You can do this using PPC ads.
The advantage of paid traffic is that the moment you start paying, you get traffic.
2. Search Engine Optimization (SEO)
SEO is the practice of optimizing pages to rank high in search engines like Google.
For as long as you can rank high in the search engines for your target keywords, you'll get consistent and passive traffic.
3. Prepared an Email List
Email lists allow you to communicate with your readers anytime.
Use them to tell fans about new content and keep them coming back to your site for more. This leads to more affiliate clicks and sales.
Get Clicks on Your Affiliate Links
Just because you have an amazing piece of content doesn't mean people will click on your affiliate links.
There are a few things you need to consider.
1. Link Placement
If all your affiliate links are at the bottom of the page where people rarely scroll, clicks will be few and far between.
On the other hand, make every other word a link in your introduction, and your content will look spammy.
You need to balance link placement with the other factors below.
2. Context
Let's say you were writing an article on the best kitchen knives for under $50.
Your introduction probably shouldn't look like this:
Today, I'm reviewing the best chef knives.
The links look out of context and spammed.
This would make more sense:
Today, I'm reviewing three different chef knives you can buy on Amazon for under $50. These are, product name 1, product name 2, and product name 3
3. Callouts
Using callouts like buttons, tables, and boxes can help attract your readers' attention and make the post more skimmable.
For example, the Wirecutter uses eye-catching boxes with product links anytime they share a top pick.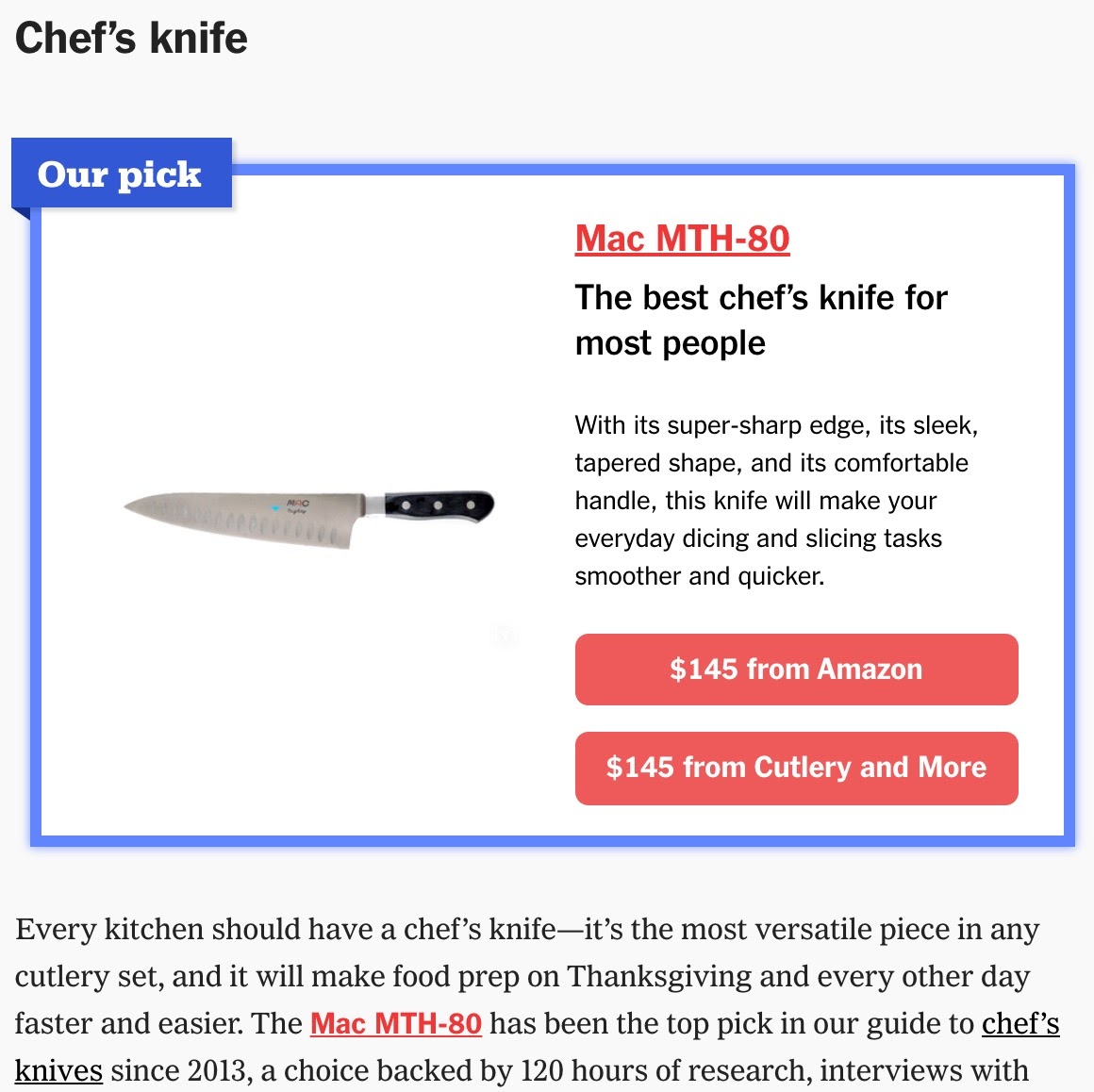 Conclusion
No affiliate marketing wheels were reinvented here. These are the fundamentals, and applying them will get you off on the right foot.
Just don't expect life-changing income or the freedom to quit your 9-5 overnight. Affiliate marketing takes time.
Focus first on making your first affiliate sale. As your site grows, set new goals, and continue experimenting.
This is how to build up a site that eventually generates a decent income.
Got questions? Let me know in the comments or Directly Contact me.
About AJ Graphics
AJ Graphics Provide The Best Service Related to Graphic Designing, Video & Animation Creation, CRM & Software Development, Web Development, APP Development, Search Engine Optimization (SEO), Social Media Marketing Management, Customer Care & Project Management. Each and every Member of This Team is Dedicated to Making sure that your Designing, Development and Marketing are exactly what you're expecting. We also Provide The Back-Office Service
Learn More: